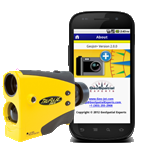 "How To" Webcast on Collecting Field Data with
Smartphones, Tablets and Lasers
April 3, 2013 – Laser Technology, Inc. (LTI), a manufacturer of the most popular handheld mapping laser and GeoSpatial Experts, the leader in photo mapping software announce their public webcast that will explain how to leverage mobile mapping technology to efficiently collect field data and upload measurements and pictures to the cloud. Using your existing smartphone or tablet along with an LTI TruPulse® 360 measurement and mapping laser, anyone can collect geo-tagged photos and capture descriptive attribute data quickly and easily. This "how to" webcast will take place on April 10, 2013 at 1 pm (MST) and will demonstrate GeoJot+, a powerful new app designed by GeoSpatial Experts that is available for both Apple® (iOS) and Android® devices, as well as how it integrates with an LTI TruPulse 360 laser.
The online session will break down the mechanics of a compass laser and explain how the raw values of slope distance, inclination and azimuth can produce a geo-referenced location of any feature without occupying it. To take it one step further, the laser can also be used to measure heights and automatically embed this data into the GeoJot+ app. In the office, GeoJot+ can process the field data that allows the creation of ArcGIS® and Google Earth maps, database output and reports showing the photo, the location on a map and the valuable attribute data collected. Professionals in forestry, natural resource management, public works, utilities, mining, telecommunication or any other discipline that collects and reports GIS data, will walk away from this webcast with the insight on how much time and money can be saved by utilizing the latest in mobile mapping technology.
Geo Tactical Solutions, Cansel, Compass Tools, Electronic Data Solutions, Frontier Precision, Inc., Precision Laser & Instrument and Western Data Systems are all active authorized dealers of the TruPulse lasers and GeoJot+ application. LTI and GeoSpatial Experts are both located in Colorado and have been business partners for over 10 years. For more information about this combination of mobile mapping technology, click here.
REGISTER NOW!
Field Data Collection with Smartphones, Tablets and Lasers Webcast
April 10, 2013, 1:00 pm (MST)